Hellvape Aequitas BF RDA
Hellvape Aequitas RDA.
Hellvape Aequitas RDA Features Specifications
24 mm diameter
Gold plated postless raised style deck
2.5mm square post holes to handle any build you throw at it
9mm by 2mm airflow slots
2 options for airflow, top and bottom. Flip barrel upside down to make your choice
Flat head and allen key screws included
810 resin drip tip,810 derlin drip tip & 510 stainless steel adapter included
Gold plated squonk pin included
Line up protruding lock on deck with opposite on barrel to properly align barrel to deck
Contents
1x Aequitas RDA With Colorful Resin DT
1 x Derlin 810 DT
1 x Stainless Steel 510 Adapter
1 x Golden Hex BF Pin
4 x Hex Screws
1 x Spared Orings
2 x Hex Screwdrivers
1 x Slotted Screwdriver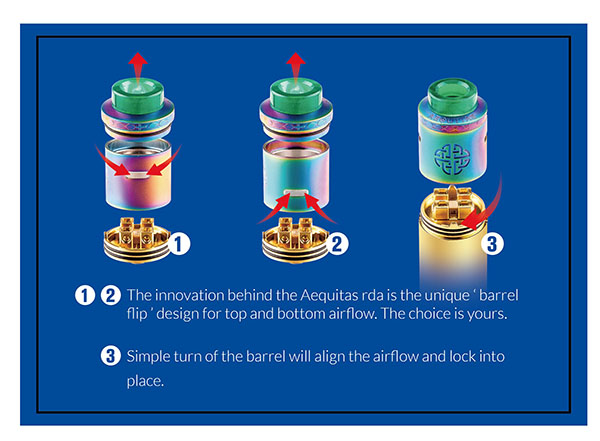 Disclaimer
You must be at least eighteen years old to purchase or use any products sold by Audacious Vapes, either online or at our physical store. Audacious Vapes do not sell products to anyone under this age. It is illegal to purchase nicotine based products for minors. We reserve the right to cancel any order in the suspected case of intent to supply to minors. We reserve the right to cancel at our discretion any sale where we believe the purchaser is not 18 or over. If you have any questions regarding our age restrictions please contact us and we will be happy to help.