Smok Veneno Kit
Smok Veneno Kit. Named after the infamous fighting bull, strong with fire in his heart and sword in his soul, the Veneno Kit will not disappoint you. The Veneno Kit has seven LED's placed in the shape of a pentagram to channel the spirit of El Veneno and bring you an extraordinary vaping experience. 225w of top tier power will keep you going all day, even when powering the 1.3 inch TFT screen.
The comfort of the Veneno is unparalleled, with the fire button and form factor making it easy to use even while out and about. Along with the included TFV8 Big Baby Light Edition tank, you'll be sure to enjoy this vaping experience like no other. Bull wins every time.
Available in Blue Red, Black Yellow, Black Red, Silver Black, Red Gold, Purple Red and 7 Colour
Smok Veneno Kit Features and Specifications
Dimensions: 85mm x 47.3mm x 30mm
Weight: 180g
Power Range: 1W – 225W
Input Voltage: 6.4V – 9.0V
Output Voltage: 0.5V – 9.0V
Resistance Range: 0.1Ω – 2.5Ω / 0.05Ω – 2.0Ω TC
Temperature Range: 200F – 600F/100C – 315C
To see specifications for the TFV8 Big Baby Light Edition, click here.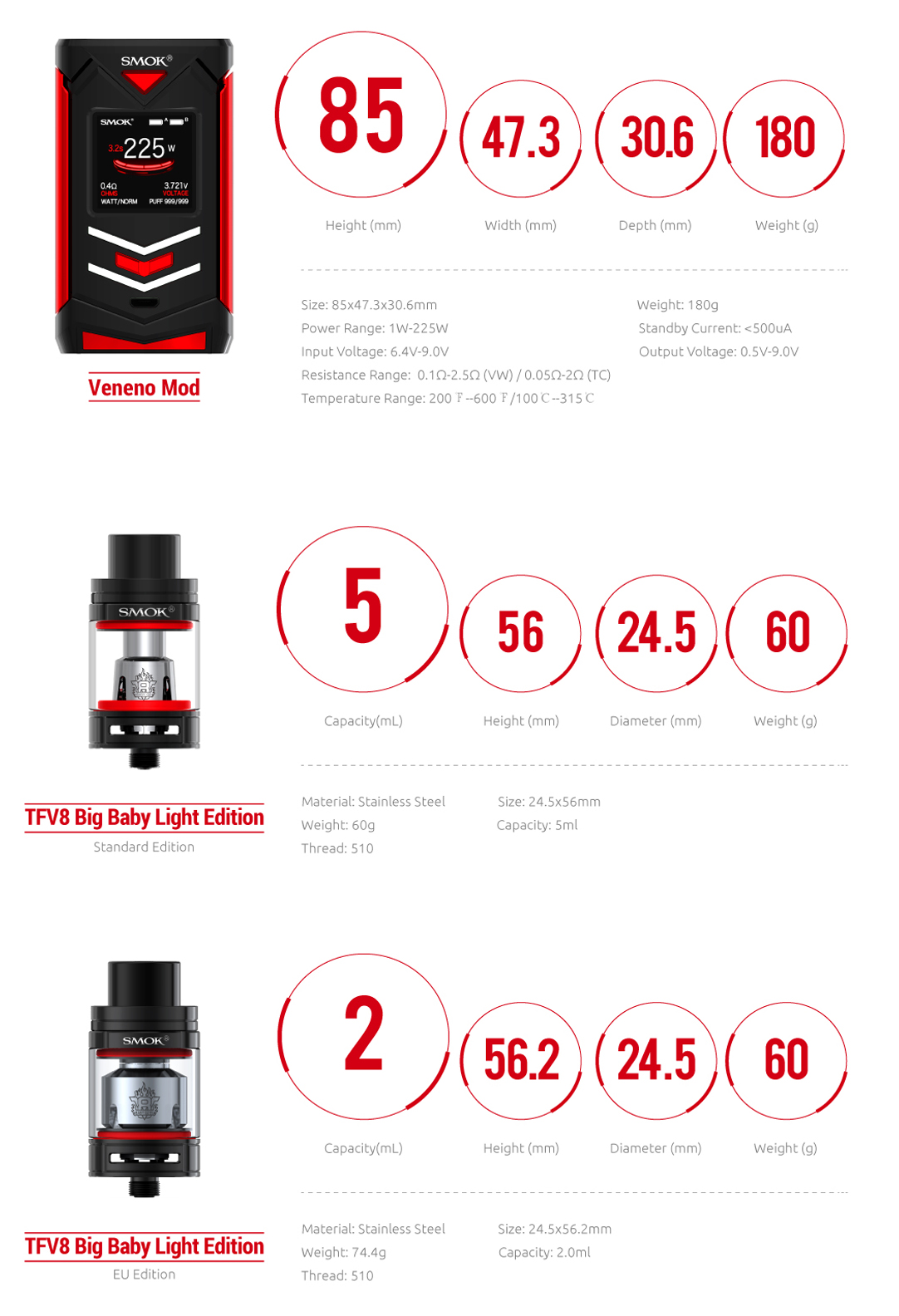 What's in the box?
1 x Veneno Mod
1 x TFV8 Big Baby Light Edition EU Tank (2ml)
2 x V8 Baby-Q2 EU Core (1 PreinstalleD)
1 x Replacement Glass Tube
6 Pairs Colour Sealing O Rings
1 x USB Cable
1 x User Manual
Spare Parts
Disclaimer
You must be at least eighteen years old to purchase or use any products sold by Audacious Vapes, either online or at our physical store. Audacious Vapes do not sell products to anyone under this age. It is illegal to purchase nicotine based products for minors. We reserve the right to cancel any order in the suspected case of intent to supply to minors. We reserve the right to cancel at our discretion any sale where we believe the purchaser is not 18 or over. If you have any questions regarding our age restrictions please contact us and we will be happy to help.